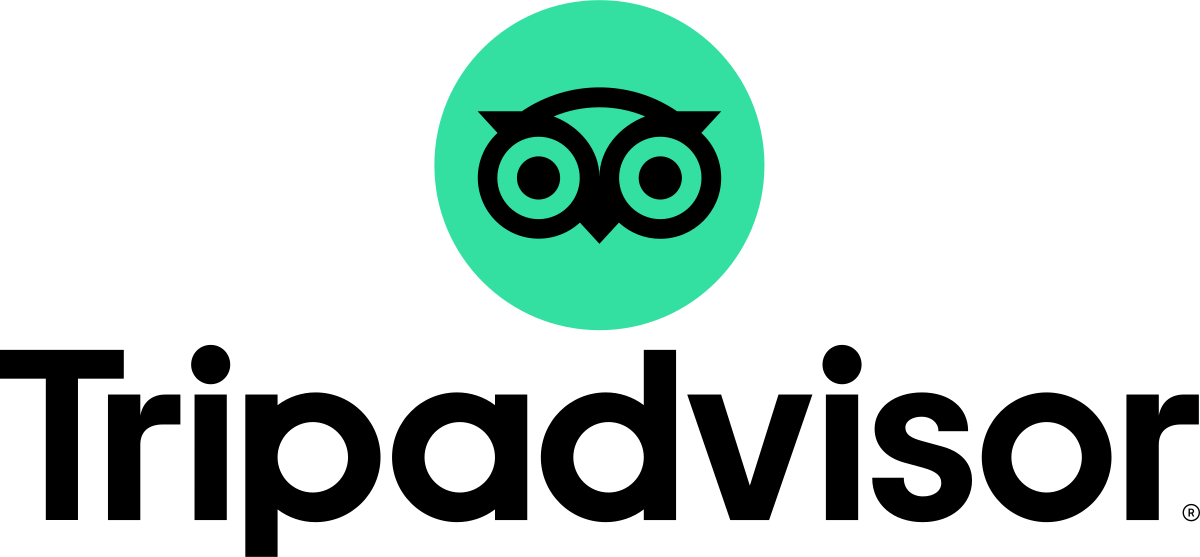 Unforgettable, mesmerising…
"OMG!" – January 2020
"My very first hot air balloon ride and what a way to do it. Early morning drifting over the Masai Mara National Reserve. I'm actually scared of heights so was not at all sure how I'd go with this yet it was the most amazing experience, well, once we lifted off! "
Trip of a Lifetime – April 2019
"I would do it again in a heartbeat!""Magical"
"Stunning views"
"Amazing Flight"
"Incredible experience"
Exceptional – highly recommend – October 2019
"What a fantastic way to see the Maasai Mara national park from the sky. Couldn't recommend it more. Seeing the sunrise and the animals going about their morning was so special, something you can't get from a jeep safari. Garry (our pilot) was such a skilled pilot, fun, friendly and made the ride so smooth. We then had a delicious bush breakfast, which was so unique to be in the middle of the park having some champagne and food. We then had a mini jeep safari back to our camp and managed to see so many animals. This balloon safari is one of the safest you can do – because they implement the highest safety standards Garry was telling us, which is very reassuring. Such a magical way to end our trip in Kenya!"
Building Memories
A place unchanged by the passage of time, the Mara is essential Africa. Sometimes raw, always dramatic, this is a wilderness of evocative splendour and inspiring grandeur. Often raw, sometimes violent, the drama of this wildlife theatre is unrivalled. Nowhere on earth can you find a wilderness so breathtakingly beautiful and yet so serenely pristine.
Diana, Canberra – January 2020
"My very first hot air balloon ride and what a way to do it. Early morning drifting over the Masai Mara National Reserve. I'm actually scared of heights so was not at all sure how I'd go with this yet it was the most amazing experience, well, once we lifted off! The first bit was a little bumpy and I felt I was on a roller coaster, but then it was just beautiful. Watching the sun rise was amazing too, and then observing all the wild life from the air was just phenomenal. Even saw a lioness stalking her prey. Best of all though was spotting the giraffe in the forested areas, there were so many of them.
I was a bit skeptical about doing this but it was a fantastic way to see so many animals from a very different perspective, and incredible to see them moving around naturally in their own habitat.
Highly recommend this activity, and our pilot David was fantastic too. We had a celebratory breakfast afterwards. Again a great experience and fabulous food. Even had our own loo with a view!"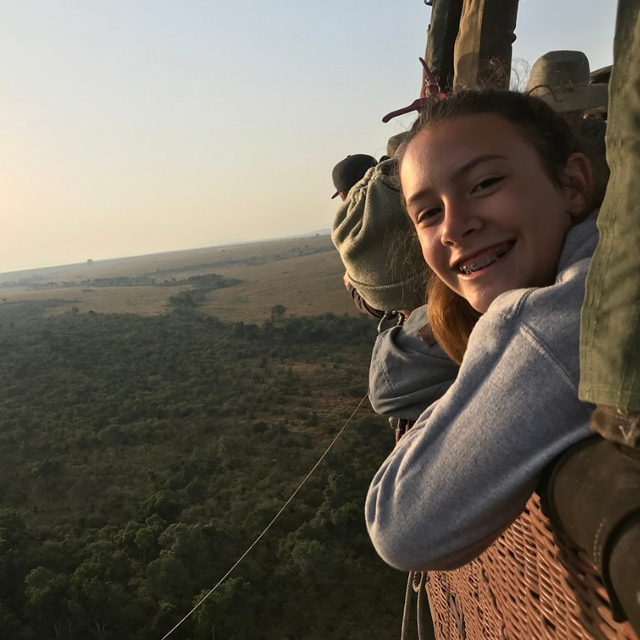 Bucket List – September 2019
"We went up in a 16 man balloon at dawn what an amazing experience looking over the Mara in at directions as the basket can be turned so everyone can see 360 .captain Garry was a great pilot and host the silents made seeing wildlife easy the burners made the animals lookup when we where low.great way to see Mara from a different angle."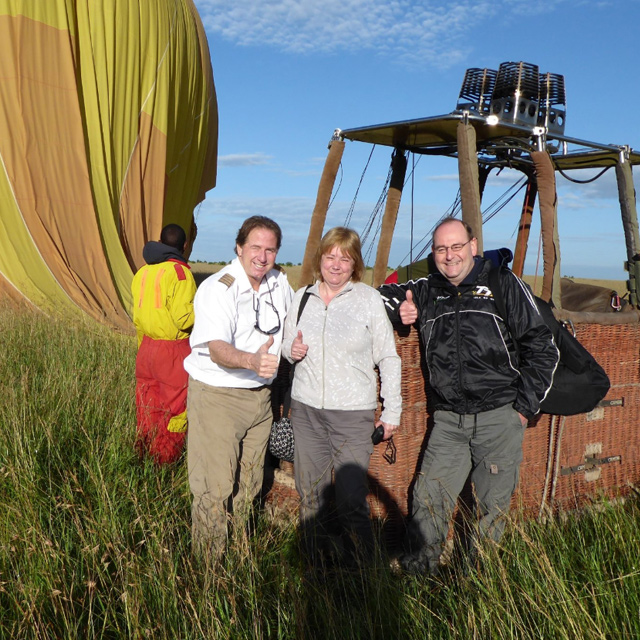 Russ, Ohio – July 2019
"We recently took the morning sunrise balloon safari. We were a little hesitant as it was in Kenya and with a lot of wild animals around. These concerns were relieved with the great professionalism from start to finish. The trip was perfect and we even got to see almost all of the Big Five."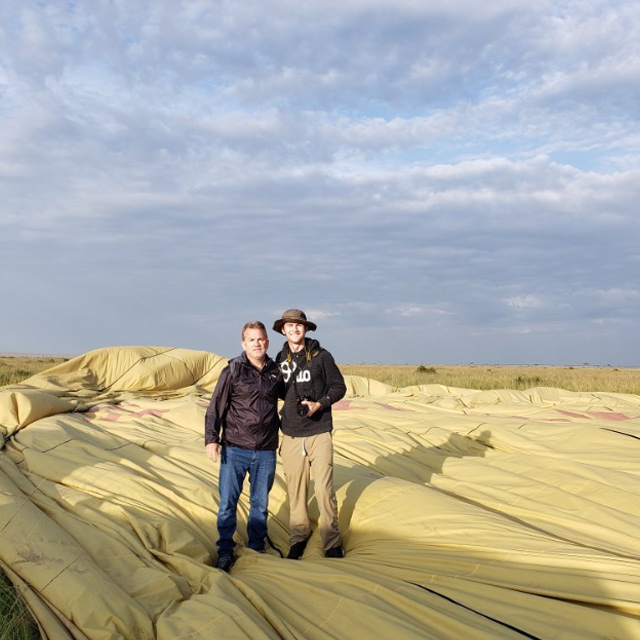 Carol, Florida – February 2019
"Serge and his wife, Alana, gave us a morning to remember. Watching the sunrise over the Masai Mara was something special. Quietly floating over the grazing animals was truly amazing. After landing we headed to our breakfast site. We came up on 2 female lions that quickly went into hunt mode when they spotted a family of warthogs. Even though we weren't able to stay for the kill that was a special time. Breakfast was delicious. From croissants to quiche and everything in between. I would recommend this to everyone!"
Great way to see Africa – July 2019
"I was amazed at how smooth the ride was. We were aloft for 1-1/2 ours and saw a 1-day old baby giraffe, two baby elephants, a vulture next from the air, and so much more. My friend was terrified to fly, but now asks when our next balloon ride will be. Worth the expense — a MUST do when in East Africa."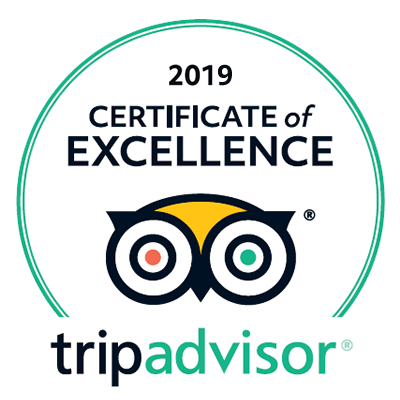 Balloon Safaris Limited have Tripadvisor's Certificate of Excellence
What are you waiting for?
"This is a journey of emotion…for many…a dream of a lifetime…"